All About Reading Level 1
Products Needed to Teach Level 1
In order to teach Level 1 to a single student, you will need these items:
All About Reading Level 1 Materials (2nd Edition)
All About Reading Level 1 Materials includes the Teacher's Manual, one Student Packet (which contains the Activity Book, flashcards, and stickers), and three readers.
Reading Interactive Kit
The Reading Interactive Kit provides the multisensory components for the All About Reading program. This is a one-time purchase, and you will use the same kit for all four levels of All About Reading. It comes in two versions: Basic and Deluxe. Visit Reading Interactive Kits for complete information.
Magnetic White Board
Many customers also like to purchase a 2' x 3' magnetic white board to use with the letter tiles, and we highly recommend one. Magnetic white boards are available at stores such as Walmart and Staples.
Teaching Multiple Students?
Each additional student will need:
Optional Product for Level 1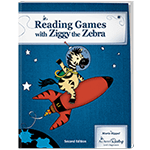 If you used our Pre-reading program and your child loved Ziggy, you can continue to the fun with this optional book! This full-color book with perforated pages features nine file-folder games that reinforce the skills taught in All About Reading Level 1.
Placement for Level 1
Please note that the Level numbers on our books don't refer to grade levels. Our lessons are mastery-based, not grade-level-based. This means that students are placed where they are at ability-wise, not according to age or grade level. So just because the books say Level 1 doesn't meant that it is appropriate for all first graders. Some kids may begin the program in kindergarten, while others may begin at an older age.
Download this placement test to determine if your student is ready for Level 1.
Download Placement Test
What will my student learn in Level 1?
Your student will learn exciting new concepts, including letter sounds, phonograms, consonant teams, blending, syllables, sight words, consonant blends, plurals, compound words, and much more. Every component of reading is taught: decoding (phonics and structural analysis), vocabulary, fluency, and comprehension. Below is a sampling in each area.
Phonological Awareness
Learn techniques for syllable counting
Isolate sounds in three- and four-letter words
Practice phonemic substitution
Decoding (Phonics)
Learn phonograms A-Z, plus TH, SH, CH, CK, NG, NK
Read short vowel words containing the new phonograms, such as

man

,

set

,

pup

,

quack

,

class

,

bench

,

trunk

,

king

, and

gasp

Read words ending in FF, LL, and SS, as in

hill

and

kiss

Read words with initial blends, as in

step

and

flag

Read words with final blends, as in

next

and

lost
Decoding (Structural Analysis)
Read plural words with suffix

s

or

es

, such as

pigs

and

lunches

Read compound words, such as

windmill
Vocabulary
Discuss new words in the context of the story and one's own life
Connect new words to familiar words
Fluency
Read with accuracy
Read with meaningful expression
Read with natural phrasing
Comprehension
Connect text to one's own experiences
Understand dialogue
Give and discuss opinions
Set a purpose for reading
See Inside the Level 1 Materials
FAQs for All About Reading
Can I get extra copies of the Progress Chart, Read-Aloud Record, and Certificate of Achievement?
Yes! You can download them here:
Second Edition:
First Edition:
I already have a Spelling Interactive Kit. Do I need to purchase a Reading Interactive Kit?
If you already have a Spelling Interactive Kit, you won't need another complete kit, just these two components:
Reading Divider Cards
Reading Review Box
You can find these components on the Reading Interactive Kit page.
Previous Edition
Can I mix and match the 1st and 2nd editions of Level 1?
No, the two editions of Level 1 cannot be mixed and matched. Since so much new content was added to the second edition of Level 1, it would be very difficult to use part of it in conjunction with the first edition of Level 1. For example, you can't use the first edition of the Teacher's Manual with the second edition readers.
Both the 1st edition and 2nd edition of Level 1 will blend seamlessly into All About Reading Level 2.
What does the 2nd edition of Level 1 include that the previous edition doesn't?
The 2nd edition Teacher's Manual includes 4 new lessons and over 100 additional pages of material. The Blast Off to Reading activity book has been expanded to include 30 additional activities, 52 Warm-Up Sheets, and nearly 150 pages of new material. The readers contain a total of 17 brand-new, fully decodable stories and feature expanded page counts. The Student Packet contains 19 new Word Cards.
Can I still buy the 1st edition materials?
We have a limited supply of 1st edition materials available for purchase. The 1st edition Activity Books and Student Packets can be ordered on this webpage. For Teacher's Manuals and readers, please call us for availability (715-477-1976).
Customer Reviews
Made Teaching Reading a Breeze

Posted by Denise H. on 23rd May 2016

When my daughter was four I started teacher her how to read, but didn't really have a plan or curriculum in place and felt like I was floundering. My son wasn't homeschooled until third grade and already knew how to read, so I knew I needed to find a program that made sense for me and my daughter. I found AAR after a friend mentioned using the SWR curriculum. Before homeschooling, I was a school psychologist for 8 years, and after reading reviews, I was completely intimidated by SWR and the training needed to implement it. Thank God I found a blog about AAR and how much more user friendly it was than SWR. I am an open-the-book-and-go kind of gal...I like everything spelled out for me and I don't want to be running to the library every week to reserve books and downloading and printing a ton of reproducibles. I adore that AAR has EVERYTHING you need in one package. I can prep several days ahead in about fifteen minutes, stick my post-it tab on the page we left off in my teachers manual, and each day I'm good to go. My Kindergartner loved Level 1 and has been begging to me to buy Level 2, which I just did. We could have moved so much faster and I could easily see someone moving through Level 1 and 2 in a years time with a child who is motivated to read. My daughter is so proud of the reading she can do and loves reading to others. The stories are cute and silly and much more engaging that so many of the beginning readers that are out there. The activity pages were creative and game-like, and also allowed for her to color a bit, which she loved. There are lots of practice and review pages of newly learned rules/patterns (we didn't always do all of these if I felt she had mastered a skill). Using AAR made me more confident in my teaching skills, gave us a clear focused plan for the year, and most importantly turned my five-year old into a confident beginning reader! She's tackling one-syllable words with consonant blends in the beginning and end, compound words, and two syllable words with -ing and -ed endings. I can't wait to use it with my youngest son when he's ready to learn how to read!

Dyslexic Son ASKS to do this!

Posted by Angela Y. on 28th Jan 2016

Thank you! Thank you! Thank you! My homeschooled 2nd grader was struggling with reading throughout first grade. We were using another curriculum that just wasn't cutting it for his learning style. My son and husband are both dyslexic so my husband was completely on board with finding a curriculum that worked to get our little guy comfortable and happy learning how to read.

We are two-thirds the way through Level 1 and my son enjoys our reading lessons, LOVES the workbook activities/games and asks to read the stories from the reader over and over. This is a COMPLETE different reaction to the other approach. My husband, with plenty of learning frustrations and hindsight from his experience, praises the All About Reading Approach. As an adult with dyslexia, he sees all the benefits with this step by step, hands-on approach from that perspective. My sister-in-law who is a Speech Therapist in a local school district is also recommending this approach to her students who are struggling with reading because of our great experience.

I taught music in public school for 10 years prior to homeschooling. I have seen a lot of curriculum and methods in the various schools I worked in over the years. All About Reading is just awesome! Thank you!

A breath of fresh air

Posted by Rachel on 31st Jul 2015

My 9 year old son began All About Reading Level 1 in the summer. We've tried many other programs for the last 3 to 4 years, and he still ended up after them with a not very strong grasp of vowel sounds, letter reversal issues, and just a general poor confidence level. He's been assessed for an IEP due to slow processing speeds, and it was clear we needed to change our approach somehow.

PROS: He already knew most of his letters and sounds, so starting at Level One made him feel like he really knew a lot. I loved the hand gestures that are used with the vowel sounds -- so much easier and less stressful to remind him by doing the gesture than by speaking. The section on how to learn b/d was vital! He knows the difference after only a few weeks of trying, and this one issue we have had for the last 3 years! He loves puppets, and so I ordered Ziggy the Zebra puppet separately (he goes with the preschool program) and he loves doing lessons and games with one of his puppets and Ziggy (Ziggy has trouble with b/d so my son gets to correct him a lot) My other children are older and fluent readers, so that way there's someone to play games with that also is learning the same things and it is fun as well. Most sections take about 30 minutes. I love the feedback, and the tips in the teachers book, and having all of the lessons and topics laid out before hand. The three hard cover books that they read short stories of have the most amazing illustrations and are interesting besides - much nicer than the flimsy easy readers that are his level.

THINGS TO BE AWARE OF: The fluency sheets can be a bit overwhelming (pages of word lists for them to read) but we split them up - or the puppet Ziggy reads half of the words, but makes mistakes, so my son has to read along to make sure he's doing a good job - and we usually spread them over the lessons where he is reading a story too. It is hard to find outside books to read that cover only the same lessons, but that will get easier as he goes up in levels. As in any reading program, consistancy is key. I've really focused on doing something every day - even if we are only able to review word cards, or do part of a fluency sheet. When we have to skip a day I can tell that both his attitude and his recall take a step backward. It isn't magical -- he still would prefer not to do reading, but he can see the progress he is making and that encourages him to try even on the boring hard things . . . . Some of the games are a little young for him, but we just skip those, or use one of our games to review word cards with . . .

BOTTOM LINE: Get a level, try it out . . . it can't hurt, and might be a blessing! I have no regrets!

Older beginner

Posted by Dana on 18th May 2015

My son seems to have turned a corner in this. Since starting our homeschool journey last year, he has resisted reading and writing lessons. We switched curriculum and things improved, but he still balked, especially those fluency pages. I would just have him do a few or break up the lesson so that would be the only thing we needed to do to finish.

We are now half way through Level One, and he love the consonant blends. He wanted to the whole fluency sheet yesterday; it blew my mind. I really love your program and the continuing online support and communication. The design, the structure, the activies, and story books really keep it interesting and simple. I want to mention that my son is older. We delayed former reading instruction on purpose, but we are great readers so his vocabulary is huge. Some beginning reading books are too primitive. Your stories are simple, but still engage his interest (probably because you use lots of critters).

Love the guarantee but I'm not returning it

Posted by Andrea on 1st May 2015

I just wanted to thank you for your reading program. My 7-year-old son has had trouble learning to read. He's felt stupid and behind. I tried other programs (which worked for his big sister), but nothing worked. After reading your story, I decided to try AAR level 1, and kept the shipping box ready to return it. After just 5 lessons, he's reading words he used to laboriously sound out. And when a lesson ends, he says, "Is that it?" and grabs a file folder game to continue the fun. Thank you for giving him (and me) his confidence back! P.S. I threw away the shipping box - this is a keeper!