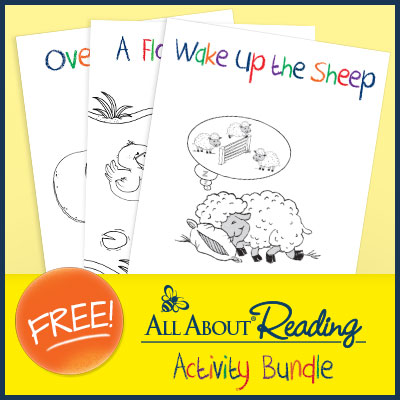 Fill in the form below to get your freebies!
You will also be signed up for our monthly "Teaching Tips" newsletter! You can easily opt out of the newsletter at any time, but we think you'll receive a lot of value from it!
You'll receive these six downloadable PDFs in your Reading Activity Bundle:

Over Easy
Here is a fun way to practice the consonant team TH! Use a spatula to flip over each egg as you read the word!

Word Flippers for FF-LL-SS
The letters F, L, and S are often doubled after a single vowel at the end of a one-syllable word. Practice these words in a fun and interactive way with our Word Flippers.

A Flock of Ducks
Practice the sound of CK with help from a few ducks in this fun activity.





Feed the Anteater
The anteater is hungry! Feed the anteater and practice reading words from the All About Reading Level 1 program. Or, use your own review words!




Be a Lumberjack
Practice "chopping" words into syllables to decode them.

Wake Up the Sheep
Wake up these sleepy sheep! Practice words containing vowel team EE.
For more fun reading activities, check out our All About Reading program!